Artists
The following is a list of artists whose work, at any given time, will appear in one of the galleries:
Isabel Bishop
Will Barnet
Luigi Lucioni
John Sloan
David Levine
Stephen Csoka
Frederico Castellon
Raphael Soyer
Stephen Sholinsky
Shigeru Narikawa
Sonja Lamut
To learn more about the different galleries go to the PRINTS AND DRAWINGS page. To go directly to the galleries, click on the following: Gallery 1; Gallery 2. To return to the home page, click here, Stem Graphics.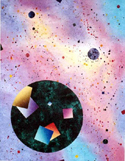 Sholinsky,'Through The Looking Glass,' 1996,20"x18"